we service all major brands of electronics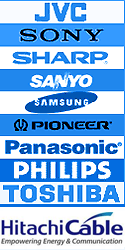 HOME CINEMA
Bring the excitement of the movie theater into your own home for less than you might think. Thrill your senses with an HDTV, mega-wattage, multi-speaker, multi-channel, Dolby Digital Pro Logic, subwoofered super system! We'll help you sort through the jumble of techno-terms -- from "Aspect Ratio" to "Zone", and explain everything in plain English. We'll help you diagnose your needs; define what equipment is best for you; handle the complete installation; and instruct you on how to start using your system. Your biggest concern will be what to watch first.
We provide a broad range of services from maximizing the potential of your existing equipment to designing a state-of-the-art high performance home theater system. A consultation with you will help us customize your system for maximum enjoyment within your budget.
Whether its designing a super-system that rivals a real movie theater or merely re-aligning an older projection TV to provide a better image, we specialize in big screens and home theater systems. We are dedicated to providing excellent, timely service, and providing the highest quality service at competitive prices.
©2002-2006 BurkeElectronics.com. All rights reserved.