we service all major brands of electronics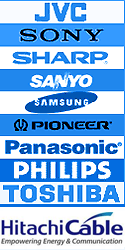 SERVICE & REPAIRS
Trouble with your television, stereo or home theater system? We specialize in providing in-home/on-site service and repair to the Northern Virginia area. We will diagnose your problem, repair your troubles, and have you up and running in no-time. If needed, we're happy to provide you with an estimate — which we can usually provide via email or a brief phone call with an accurate description of the problem.
Just fill out this request form, send an email to info@burkeelectronics.com,
or call us at 703-580-1155.
©2002-2006 BurkeElectronics.com. All rights reserved.