we service all major brands of electronics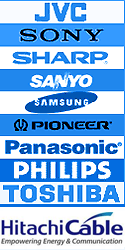 TELEVISIONS
The best service available on all major make and sizes – from the latest HDTV plasma screens, to the old picture tube floor model sets – we have over 25 years experience repairing, calibrating and evaluating consumer electronics in order to squeeze the best response from your display or sound system.
When it comes to service, we realize that most people today live busy lives – that's why we specialize in In-Home service and repair. Each of our technicians has a well equipped vehicle and is internet linked through their laptop in order to provide you with reliable electronic repair along with first-rate customer service and response.
©2002-2006 BurkeElectronics.com. All rights reserved.