we service all major brands of electronics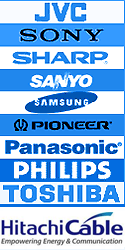 VCR / DVD
If you're having trouble with your VCR or DVD, don't give up on it too soon. Most machines are worthy of repair. The majority suffer from normal wear-and-tear on mechanical parts and for the most part can be repaired to like-new working condition very inexpensively.
Cleaning, lubrication, alignments, and mechanical or electrical repairs – we repair all major makes and models of home VCR and DVD equipment, and professional grade time-lapse recorders.
©2002-2006 BurkeElectronics.com. All rights reserved.